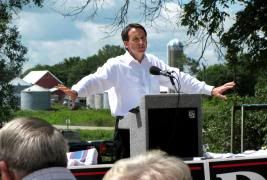 There's a big debate tonight, featuring the contestants in Saturday's Iowa straw poll. Based on polling, Tim Pawlenty needs to blow everyone off the stage, to have any chance of finishing even a respectable not-too-distant second or third. It wouldn't surprise me if, in endeavoring to do that, he goes too far and embarrasses himself. I hope so.
Paul Krugman wrote about a central mystery of the Pawlenty campaign.

I have to say that there is a mystery associated with Pawlenty – but not about the candidate. Instead, the question is why pundits continue to represent him as a smart, qualified guy.
There is, in fact, not much mystery here, and I suspect that Krugman knows it, and is being a bit disingenuous, for rhetorical effect. The Village punditry continue to boost TBag at every opportunity, because the people that sign their paychecks expect them to do so. The conventional wisdom has it that Timmy is one of the few declared, or likely to declare, GOP candidates with a realistic chance of beating Obama in the general…possibly the only one, all things considered.
If you're the bosses of corporate media, you have two "dream-come-true" desires in 2012. The first is a historically tight, cliff-hanger election, to give your "news" products some much needed afterburners. The second is a Republican victory, so that, like all corporatists, you can continue to **** the middle class and the poor, with impunity. The way they see it, Gutshot could make that happen. Because they won't see what a phony/weasel/loser he is.