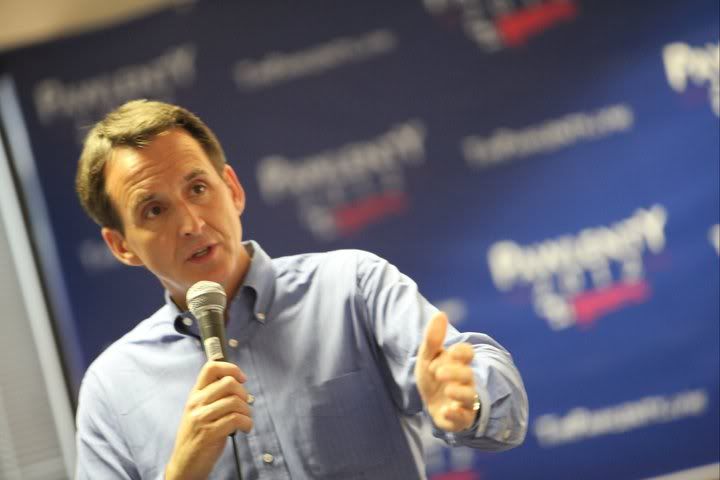 I'm not writing him off, yet, but:

As a new nationwide poll shows a decline in former Minnesota Gov. Tim Pawlenty's popularity, the Republican candidate's presidential campaign seems to be struggling with staff, messaging and funding.

The Gallup Poll, which was released Wednesday, puts Pawlenty at two percent support among likely Republican voters when the full list of all possible Republican candidates is considered – including Sarah Palin, Rick Perry and Rudolph Giuliani.

In an even harder hit to Pawlenty's prospects, the Gallup poll shows that his popularity, when measured against all announced candidates, has been sinking since a late May poll, where he reaped 7 percent support. Pawlenty is now listed at 4 percent among announced candidates.
This may be a chunk of the reason why.

(Pawlenty campaign director Nick) Ayers was rumored to be leaving the Pawlenty campaign in favor of Texas haircut Rick Perry, if Perry announced he was in the race. Pawlenty's spokesman Alex Conant and Ayers quickly rejected the rumor.

Seizing on the rumor, the Daily Caller's Matt Lewis is asking a more important question: Does anybody even like this kid?

In an opinion piece on the conservative website, Lewis says Ayers is "probably the most hated among the political operative set" in the Republican party.
Dave Mindeman has remarks, as to why the Bachmann entry may have destroyed the Pawlenty candidacy.

Bachmann represents the GOP as it is now. Hard right, fiscally irrational, with a deep religious undertone. She IS the Republican primary voter. Despite all of the pandering and policy changes that Pawlenty has undergone over the last year, he is still only a shadow of what Bachmann already is.