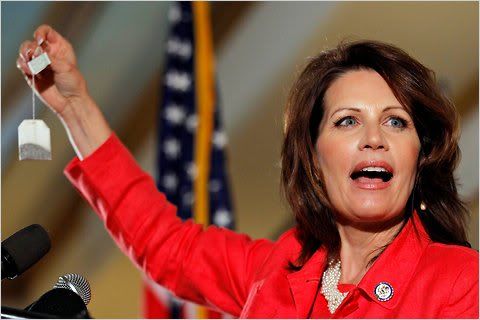 After reading Matt Taibbi's excellent investigation into Rep. Michele Bachmann's background, next consider the article from Cheryl Gay Stohlberg in today's NY Times. Stohlberg looked into Bachmann's foster care children and paints a rosy picture.

Nearly two decades ago, a stay-at-home mother and onetime federal tax lawyer named Michele Bachmann felt a spiritual calling to open her clapboard home here to troubled teenage girls.

"We had our five biological children that God gave to us, and then he called us to take foster children into our home," Mrs. Bachmann told a Christian audience in 2006. "We thought we were going to take unwed mothers in," she continued, adding, "We took 23 foster children into our home, and raised them, and launched them off into the world."

Today Mrs. Bachmann is Representative Bachmann, a Minnesota Republican, first elected to the House in 2006, and now a candidate for her party's nomination for president. In Washington, she has grabbed the spotlight as a staunch fiscal conservative and brash Tea Party leader. But a look at her life here shows that it was her role as a mother, both to her biological children and to her adolescent foster daughters, that spurred her to seek public office.
This is more typical of the kind of journalism we expect. Nary a critical word. Only one critic of Bachmann is cited and we might imply that the Bachmanns made significant sums of money providing foster care.
No mention of what Taibbi calls religious "zealotry" nor of the multiple versions she's given of her background. Just a sad puff-piece from the newspaper that let Judith Miller sell America a pack of lies about Iraq. This is uncritical, lazy journalism at its worst.