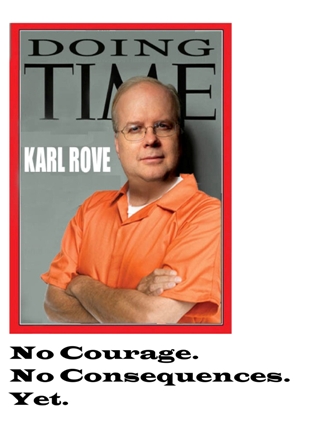 We had to scurry last week to organize the proper welcome when we heard that war criminal Karl Rove was coming back to the Twin Cities to "inspire" his young Republicans at the University of Minnesota and try to peddle more of his bizarrely-titled Courage and Consequence books. Even though we didn't have much time, we were able to come up with a pretty good t-shirt design showing how "Turdblossom" (as George Bush affectionately called his buddy) but whom most people know as "Bush's Brains", should be doing time for his war crimes.
Although Rove was flanked by a squadron of police officers and security guards at his first speech and book peddling at the University of Minnesota, his control of the microphone was interrupted a few times by anti-terrorism proponents.
Some of us listened patiently, however, and suffered through Rove's entire speech falsely boasting of "how he was able to maintain his morality in politics". We then waited respectfully in line to get our turn for the book signing. (After purchasing his book with a check for $24.25 with memo: "Karl Rove-War Criminal", I had quickly used a black magic marker to correct the title on the cover to read: NO Courage. NO Consequences. Yet.) Then I wrote "please address this to Leavenworth Prison" on the yellow sticky inside telling the war profiting author who to address his book to. But the Turdblossom didn't comply! As you can see in the video below, he did sign his name quickly and also accepted but did not thank me for our t-shirt gift. (The t-shirt we gave Rove showed a number of the child victims of the war he helped lie us into with the heading: "Karl Rove-Bush's Brain. War Profiteer. War Criminal".)
Although he let everyone else take a picture with him, Rove again showed no courage and refused my request for a mugshot. Rove was equally unappreciative when I handed him the citizens' arrest warrant which I had brought to try and help the police officers who were mostly, by that time, just standing idly by.
Sadly all the police officers at the University to whom I provided the sample arrest complaint seemed to prefer enforcing the rules against protester rudeness instead of their actual duty to enforce our country's serious laws pertaining to torture, illegal war, destruction of evidence and other significant crimes.
So when the war criminal was able to make his getaway and escape to the Mall of America for his second book signing of the day, a few of us conscientious citizens had no choice but to follow him.
It turned out that I was not allowed to show my old FBI handcuffs to Karl Rove at the Mall as they have a rule, unbeknown to me up to then, against possession of handcuffs on Mall property. I was just trying to show Rove what real handcuffs look like so he wouldn't be so shocked when the day comes when police do decide to enforce our country's laws. Again Rove was again flanked by legions of police and security officers assigned to protect him (and probably trying to bolster his ego by making his small fan club of 40 people in the Mall seem bigger).
Oddly enough, given Rove's speech-making right there on the Mall of America's podium, their security chief advised me that the Mall has rules against "political speeches" and said I would only be allowed to whisper quietly with my friends. They said Rove was their guest. (And the rest of us mall shoppers are chopped liver?!) It didn't do any good either to remind the mall officials that I had helped them organize several years ago for Al Gore to give out his good government "Hammer Award" on the same podium which seemed kind of political. The Mall Security said they get full discretion to determine what to ban as a "political speech".
At that point, none of us wanted to buy a second book authored by a war criminal so we just got in line a second time with the books we had already purchased. The poor mall security guards, who looked worried but were very nice and professional, came to accompany us while we waited our turn (and probably to also supervise any political speeches that could pour forth while waiting in line). A guy wearing a "George Bush–Freedom" t-shirt who was in line with us actually did try to give us some of his political speeches. But we and security just tuned him out.
So everything went well even though Karl seemed a little surprised to see us a second time.
Some time later, however, I got the blame when a young shopper got carried away and yelled "war criminal" while Rove was still on the MOA podium. So I received a courteous security escort out of the Mall and was told I'd have to do my shopping somewhere else the rest of the day.
Let's hope our Rovian books, doubly autographed as they are, are worth something at a future Road House Auction a hundred years from now when our country has hopefully recovered from this sad episode marked by unjustified wars, torture, illegal politicizing of government, dereliction of official duty and other unconscionable acts thought up by "Bush's Brain".