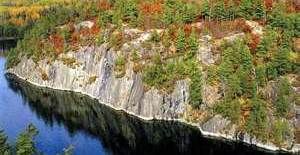 Just like Rep. Chip Cravaack's (R-MN/NH) political career. I have no problem with either.

Plans to swap state-owned land in the Boundary Waters Canoe Area Wilderness for federal land are probably dead and will need revisiting in the next Congress, U.S. Rep.-elect Rick Nolan said.

Passing the bill in the House was one of the main accomplishments of GOP Rep. Chip Cravaack, whom Nolan defeated in Tuesday's election. It would fulfill a long-held goal of trading strictly protected state-owned land that's locked inside the BWCA for federal land in northeastern Minnesota that could bring revenue for the state's school trust fund.

The Sierra Club and other groups have fought the proposal because they say it would reduce environmental protections on the Superior National Forest land that the state receives, which likely would be offered up for mining and logging leases. They'd prefer to see the federal government buy out the state-owned land instead.
This is all politically tricky because the state legislature passed (with ample DFL support), and Gov. Mark Dayton signed, legislation that is arguably not dissimilar to Cravaack's bill. Frankly, it's often difficult in this matter – quite possibly by design – to determine precisely what various elected officials support, as far as what they might be willing to let the mining companies get away with, in the name of sacrosanct JOBS! Though certainly Nolan is more oriented to holding those corporations accountable, in environmental and worker protections, than Cravaack was.