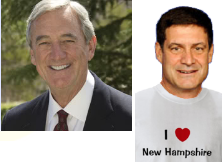 It's been called. Cravaack has reportedly conceded.
I'll start showing results at about 8:30. If at any time after that they haven't been updated for more than thirty minutes, it's because there hasn't been any significant change on the Secretary of State's website. Which is unlikely. Note that the north part of this district, where Nolan should be stronger, is often slow in reporting. I recall being up at 4AM on election night in 2010, waiting for those, in an agony of suspense and dread as to whether Governor Dayton, and then-Rep. James Oberstar, would hold on.
Last update: 102AM
Nolan – 52%
Cravaack – 48%
% reporting – 56
921AM: Most recent polls have showed Rick Nolan leading one-and-hopefully-only term Rep. Chip Cravaack (R-MN/NH), though by only in the range of 2-4 points. I'll be heading out to vote for Nolan, among others, shortly. All and sundry are welcome to join me here, from time to time, later. You can also check out the Minnesota DFL's "Chipocrit" website, and/or send thanks, or even pizza, to the glorious folks at Take Down Cravaack.