Rep. Chip Cravaack (R-MN/NH), in what appeared at the time to be political suicide, put his family's house in Lindstrom, MN on the market and moved his family to New Hampshire in July of 2011. Cravaack said he was going to continue to live in Minnesota and visit his family on Sundays. He did, in fact, buy a house in North Branch.
What's ironic is that residency was a major issue in his 2010 campaign against Jim Oberstar. Cravaack complained Oberstar's primary residence was in Maryland, he rarely visited MN and had lost touch with his district.
Cravaack has always strenuously maintained that his primary residence is in Minnesota. Now we have proof that this simply is not true.
I got my hands on the mortgage to his house in North Branch. This house is the Cravaack's second home. Not their primary.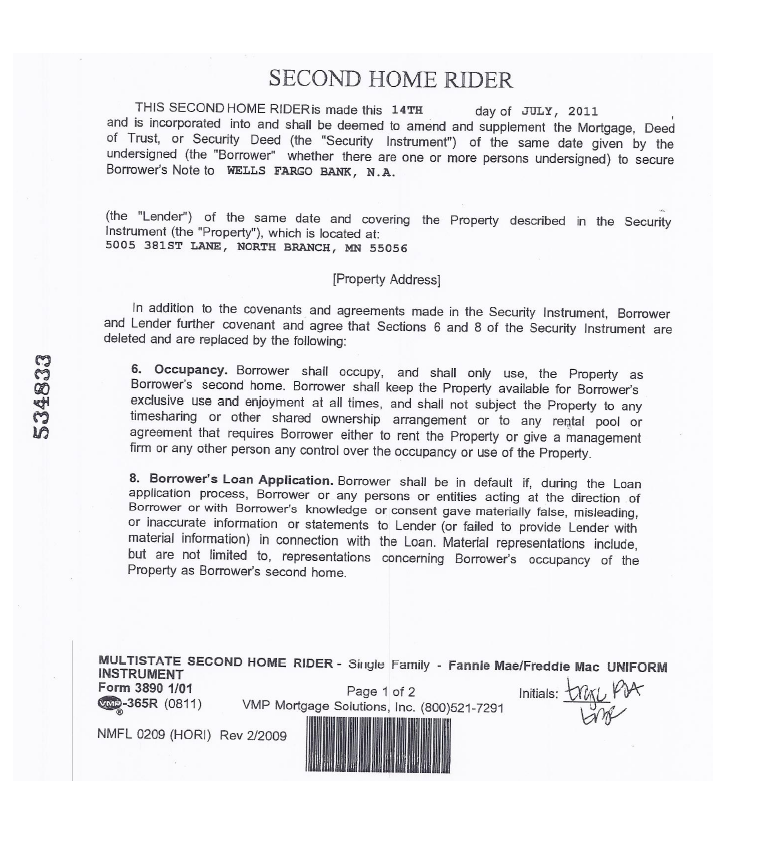 Click on the image to see a larger version
You can review the entire mortgage, links below the fold.
Let's revisit the entire issue …
Cravaack visits the state only 3 times every 2 months for public events. Often staffers attend these public events. It's not as if he's all that accessible if you aren't a Republican.
Cravaack has utterly ignored his district's largest city, Duluth. He only held one free public event in Duluth. He was forced to do so under tremendous criticism. He announced inside 48 hours of holding it. He promised a second event, but never delivered.
When the Koch Brothers closed a Duluth plant of theirs, Cravaack was absent and silent.
Cravaack is inaccessible to liberal constituents. When liberal constituents attempt to contact Cravaack by email, phone and Facebook, he doesn't respond. In the case of Facebook, Team Cravaack banned the person from Cravaack's page rather than answer his question about when Cravaack would hold a free, public event in Duluth.
You aren't welcome at his private events (he has a good number of these). If liberals do show up, he calls the cops.
If a liberal shows up at his office, his staff calls the police.
Mortgage
Cravaack North Branch Mortgage, p. 1
Cravaack North Branch Mortgage, p. 2
Cravaack North Branch Mortgage, p. 3
Cravaack North Branch Mortgage, p. 4
Cravaack North Branch Mortgage, p. 5
Cravaack North Branch Mortgage, p. 6
Cravaack North Branch Mortgage, p. 7
Cravaack North Branch Mortgage, p. 8