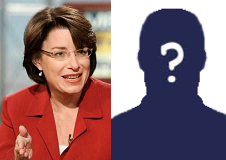 The Kurt Bills campaign didn't like the results of the Star Tribune's Minnesota Poll. That part is easy to understand. Sen. Klobuchar leads State Rep. Bills (R-Goldbug) by 29 points. Over 60% don't recognize Bills name. Yeah, um, they might come to recognize it now. Certainly the state's women will come to recognize his name, and many no doubt recognized some of their own experience in the Bills campaign's reaction.
Not content to respond by saying their internal numbers show only a 15 point deficit, they showed, well, a chauvinistic level of maturity:

In a news release on Thursday, Bills campaign manager Mike Osskopp said the poll oversampled Democrats and said, "Don't forget, Amy's Dad was a columnist for the Star Tribune for 3 decades. It's no coincidence that they are pulling for Daddy's little girl." Later, Osskopp e-mailed a fundraising appeal to supporters that said "Daddy's newspaper needs to protect daddy's little girl."

Jim Klobuchar was a columnist with the newspaper for 30 years before retiring in 1996.
Should we count the levels of stupid?
Where to start? Let's go for the big one, using the phrase "daddy's little girl" for an accomplished middle-aged woman. And come on, like a retired columnist runs the newspaper? It's not like the younger Klobuchar came from the sort of privileged background that produces Republican presidential nominees. It's also not like Osskopp and Bills have any excuse to be unaware the Star Tribune has changed ownership two or three times since Jim Klobuchar retired, or that most of the staff has turned over, including the people who run the paper, so they probably don't even know Jim Klobuchar except for recognizing his name. Which is more stupid, the thought, or the deliberately offensive phrasing? I'll say the phrasing, since not knowing about the Star Tribune can be attributed to ignorance, while the attitude requires a dose of meanness too.
Perhaps the stupid wasn't in having that thought but expressing it, and not in an off-hand comment or as a quickly regretted and deleted tweet, but in an actual press release. Look again at the quote above, "In a news release…". Osskopp said it again in a "…fundraising appeal to supporters…". He meant to say it. That's what he came up with after thinking it through. Did the candidate know that's the sort of person he hired for a campaign manager, because it's not the first time? Did Bills approve of the press release and fundraising letter? Maybe Osskopp gets to put out press releases and fundraising letters without checking with anyone, in which case, Bills needs to stop that and disavow what Osskopp said. So far, he hasn't. If Bills approved, then his huge deficit is going to get so big he'll already be trailing in his next election, if he ever runs for anything again, which seems like an eminently bad idea.
So let's ask other Republicans if they still support their US Senate candidate, assuming they know who he is, and don't pretend to be among the 60% asking "Bills who?" If they do, are they OK with referring to women who have their own accomplishments as "daddy's little girl"? Do they care to explain that to women still thinking of voting for them?
The smart Republicans will be easy to identify. They'll be separating themselves from Bills as quickly as possible. We would be fools not to urge them on to a decision.