Last week, a group calling itself Minneapolis Democrats for Truth mailed out an attack piece against Ian Alexander. Voters began receiving it this weekend. They also made phone calls to voters in 59B in north Minneapolis over the weekend. In the email and in the calls, MDfT attack Alexander's history as a Republican reminding primary voters that Alexander was recently a Republican and campaigned against Barack Obama in 2008.
Alexander is vying with Terra Cole and Raymond Dehn in the DFL primary tomorrow. This is the seat vacated by Bobby Joe Champion who is running to replace Sen. Linda Higgins who retired (and is now running for Hennepin County Commissioner). This is also Keith Ellison's old seat.
An intrepid voter in 59B recorded one of these calls. Listen for yourselves:
According to campaign financial filings, MDfT is made up of Chris Stinson and Vicki Moore.
Alexander responded to this attack, labeling it "push polling" and "attack ads." Technically, this is not a push poll though it certainly is an attack. Push polls typically ask a single leading question then provide an answer regardless of the person's response. An example of a push poll would be along the lines of "Would it change your opinion of candidate Mister Magoo if you knew he hated blind people?" Furthermore, it is in fact true that Alexander used to be a Republican and most push polls involve lying.
His opponent in the DFL primary Ray Dehn also repudiated the attacks. The Alexander campaign is trying to link the mailing to Dehn's campaign. All they can prove is that MfDT and Dehn (correction) AFSCME & MAPE use the same mailing house (AFSCME and MAPE endorsed Dehn).
Images of the attack mail and full text of Alexander's and fellow candidate Ray Dehn's responses below the fold.
Click on the images to view larger versions.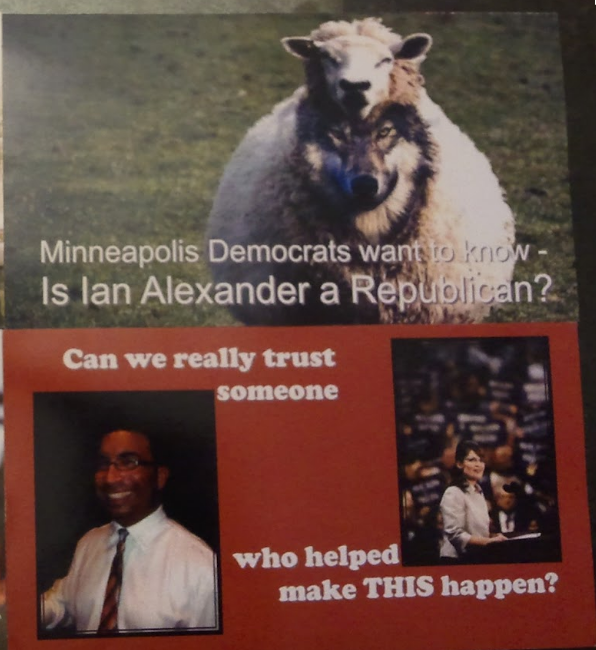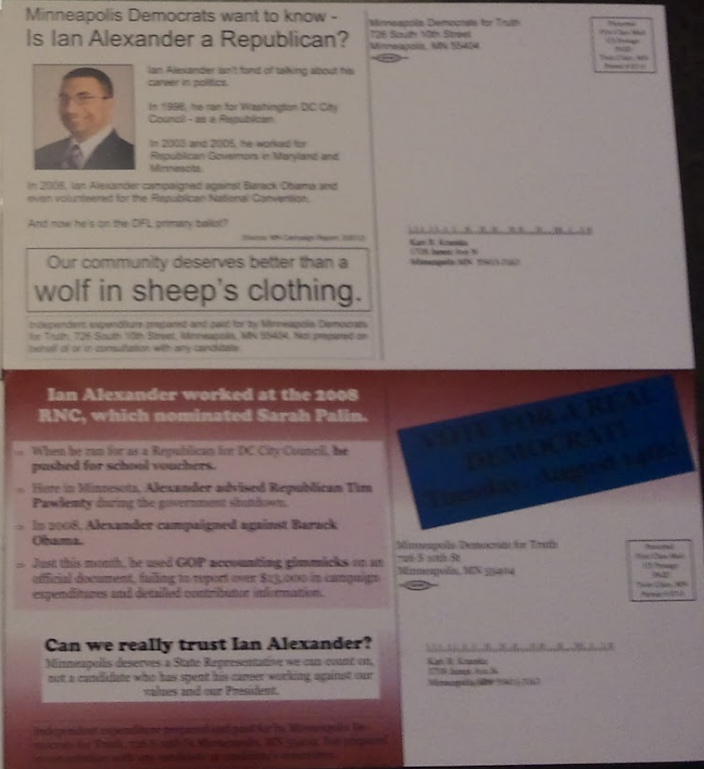 Alexander:

Dear Friends & Fellow Neighbors:

By now, many voters have noticed the negative tactics used by some in this race. There has been an onslaught of "push polling" and "attack ads" against me. Please know that in challenging times, my values prompt me to take the high road; I am a candidate who will not resort to personal attacks.

When it comes to building community and bridging divides I will remain focused on collaborative problem solving – this is what my multiple labor endorsements recognize. The Star Tribune viewed my past as valuable in its endorsement of my candidacy:

[Ian] is a relatively recent convert to the DFL, something some critics count as a negative. We see it otherwise. When [Ian] says "the Republican Party refuses to listen to the facts" about investments in public safety and infrastructure, the message carries extra punch.

I intend to take that message to the legislature to fight for positive change in our district, while bridging – not increasing – divides across the aisle.

I stand by my word, and I am proud to have joined the party of inclusion – the DFL. While other interests in this race spend time developing negative attacks, I will continue to spend time meeting voters and listening to your concerns.

I ask for your vote this Tuesday, August 14, 2012.

Thank you.

Ian Alexander
Dehn's response:

On Saturday, a number of North Minneapolis residents received negative literature pieces mailed by an independent group "Minneapolis Democrats for Truth" to voters in District 59B. These pieces attacked fellow candidate with whom I disagree on important issues, but who has worked hard in this race and who is an upstanding citizen and resident of North Minneapolis. In short, I find these attacks on a fellow candidate distasteful and harmful to the solidarity of our diverse community.

From the beginning of this race, my campaign has stayed positive, and I am disappointed in these attacks so close to the election. My campaign is focused on fighting for a better future, and has avoided these types of personal attacks. With more than 20 years of involvement in the North Minneapolis community and the Democratic Party, I truly value voter engagement and building participation in our democratic system. Negative campaigning undermines those values.

As someone who has done things in the past that have shaped me into the person I am today, I understand that it is possible for people to make significant changes in their lives. We should encourage and support people when they make positive changes and I believe that candidate Ian Alexander's decision to switch from an active Republican to an active Democrat is a positive change. Additionally, I believe that negative attacks during an election make it harder for individuals to work together on issues after the election that are important for all Minnesotans.

My campaign remains focused on current issues and future challenges, not dredging up old history. Like Keith Ellison, I too believe that Everybody Counts and Everybody Matters. As a result, I welcome all people who want to be a part of the DFL, who want to strengthen and unite our community, and who are ready to work to move us forward. All the candidates fit that description, and I hope we can all continue to work together regardless of who wins this election.