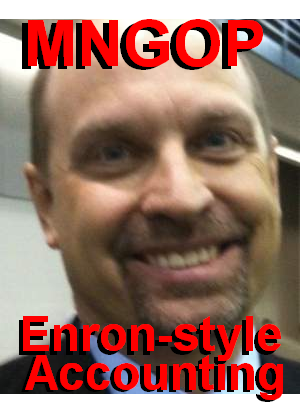 In previous installments of the Cooked Books series, TwoPuttTommy explored the corruption and incompetence of the Republican Party of Minnesota. He found FEC filing problems, wrote about investigations of the MNGOP, noted the MNGOP paid a candidate to run for office and investigated if the MNGOP paid for legal counsel for one of their legislators facing DUI charges … among many things.
In Part 13, I want to bring to your attention that the MNGOP is in debt to itself. The FEC filings for May is out. It tells us that the MNGOP accumulated nearly a million debt in May. $810515.56 to be specific.
Line 20 in the report is quite telling.

The nature of this debt is Administrative salary.
So how is it that a deeply in debt business owes money to itself? That would be by not paying its employees, Bob.
Yes, that's right. The Republican Party of Minnesota cannot pay their employees they are so deeply in debt.
At least they're consistent. They are doing the same thing to the state of Minnesota. Trying to bankrupt it, that is.
– Photo: former Enron lobbyist and current MNGOP Chair Pat Shortridge.