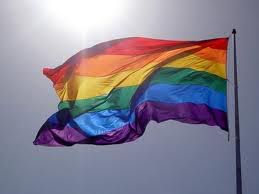 If I was to make a list of ten favorite guitarists – not necessarily claiming to be the ten "greatest", just the ten I'm most into – there would be some obvious names, like Hendrix, Duane Allman, and Jeff Beck. And some perhaps not so widely agreed upon ones, like Richard Thompson, John Fahey, and Clarence White. And Bob Mould, who was in the legendary Minnesota-based band, Husker Du. He's gone public on the marriage discrimination issue in North Carolina.

In a new video campaign "Voices Against Amendment One," Wilco frontman Jeff Tweedy, Hüsker Dü's Bob Mould and Ian MacKaye (Minor Threat, Fugazi, Dischord Records) speak out against North Carolina's Amendment One, a proposed state constitutional amendment that would ban same-sex marriage, as well as civil unions and domestic partnerships for opposite and same-sex couples.
Mould is generally a pretty reticent person, offstage. His pro-LGBT rights activism, though , is not new.

In April 2004, Mould was a co-organizer of the WEDRock benefit concert for Freedom to Marry. "WedRock" was a play on the word "wedlock". The event raised an estimated US$30,000. Mould also contributed the song "See a Little Light" to the 2006 album Wed-Rock: A Benefit for Freedom to Marry, an album to support in the legalization of same-sex marriage.
Since that song is fairly easy-going, at least by the standards of the band with which he rose to fame – among knowledgeable fans of contemporary rock music, anyway – I'm adding another that's more replete with classic Bob Mould chops. Might help get things energized for you, on a Monday. Don't turn your speakers up during the fade, though, or the chord at the very end might cause problems.