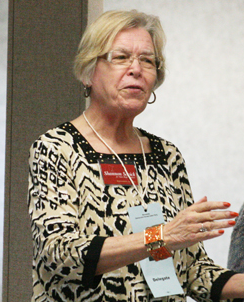 Former Wells, MN Mayor Shannon Savick formally announced that she's seeking the State House 27A seat today. She won the DFL endorsement this weekend. 27A is made up of Freeborn County and parts of Faribault, Steel and Dodge counties. Republican Rich Murray currently holds the seat.
"As someone born and raised in Southern Minnesota, I understand the importance of our community and our way of life," Savick explained. "I am a retired professional in high-tech industry and a product of the great public education offered to me growing up in this district. Education is the key to job creation, and I am committed to preserving our commitment to those values."
Savick will also focus on job creation and tax reform if elected.
"We cannot leave our middle class families worse off and we need to protect the most vulnerable among us," she explained. "Tax reform is critical to the success of our state. Minnesotans must pay their fair share and relieve the burden that Republican policies have placed on local government and property taxes.
Savick believes that today's high-tech work environment requires that our young people and displaced workers receive quality education. In addition to attract sustainable companies Minnesota needs to invest in roads, bridges and communications.