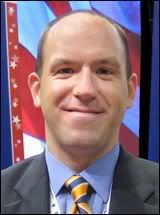 "Applicant" for unemployment benefits, that is. For some reason, I just don't seem to have the gift, for coming up with those "right-between-the-eyes" headlines in which Michael Brodkorb apparently specialized, during a previous gig as an anonymous attack blogger. Or so I've been told; I never read his crap. Even my time is not entirely without its value.

In his application for unemployment benefits former Minnesota Senate staffer Michael Brodkorb said he didn't violate Senate policies or commit misconduct. His application was rejected and he has appealed. An unemployment judge held a two-hour hearing on Brodkorb's appeal (Thursday) afternoon.

During the hearing, Brodkorb responded "yes" when the judge asked whether he filled out a form that said he "did not violate any internal senate politics or commit employee misconduct."
This, from the same article, is intriguing:

The hearing also revealed that (Amy) Koch has been communicating with Senate GOP leadership about Brodkorb's dismissal. Matzek confirmed that he, Koch and Senjem discussed on Wednesday a document submitted to the unemployment judge about Brodkorb's application. The documents are not public information, so reporters weren't able to inspect them.