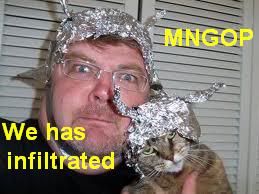 According to secret documents, the current quagmire in which the Republican Party of Minnesota finds itself can be directly blamed on the DFL Party. According to several recently discovered secret plans, the DFL was able to infiltrate the MNGOP with three activists. These three DFL secret agents have, apparently, nearly bankrupted the party and gotten them evicted from their headquarters.

The debt-plagued Republican Party of Minnesota is getting kicked out of its party headquarters near the state Capitol.

Massachusetts-based Hub Properties Trust filed paperwork in Ramsey County on Wednesday to evict the state GOP for failing to pay more than $96,000 in rent over the last year.
In Operation Brokdorp, a secret agent posed as a sleaze-blogger and convinced MNGOP activists to elect him as Associate Party Chair. Speculation continues as to how Operation Brokdorp managed to entice Senate Majority Leader Amy Koch into a sex scandal. While no notes were discovered in the files relating to the sex scandal, my guess is that this was an opportunity the secret agent exploited.
In Operation Dumbo Drop, another secret agent infiltrated party finances and steadily ruined the MNGOP's financial health prior to being elected Party Chair despite his obvious financial ineptitude.
The third secret agent got himself elected Party Chair and convinced the MNGOP faithful that they were going to win the 2006 and 2008 elections by wide margins. In the end, secret agent Baghdad Bob managed to lose a net of 10 State Senate races and a net of 65 State House races while in charge of the MNGOP.
In light of these discoveries, the humiliating 2010 losses in which the MNGOP won veto-proof majorities in both houses cannot be easily explained. DFL secret agents were busy doing all they could to destroy the MNGOP from within, yet the MNGOP managed landslide victories.
For example, they conducted purges of moderates. The purges made sure that virtually all of the MNGOP candidates were Tea Party radicals. Yet the DFL still managed to lose.
In the 2010 Governor's race, they undermined frontrunner Marty Sertich's chances and put up Tom Emmer as the MNGOP candidate. Thankfully, Mark Dayton managed to win the race by 9,000 votes.
Overall, Operation Brokdorp, Operation Dumbo Drop and Operation Baghdad Bob must be deemed success even considering the anomaly of the 2010 election.