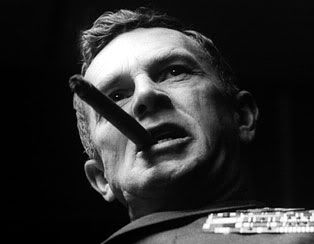 Super PACs on both sides are targeting Rep. Chip Cravaack (R-MN/NH). The lefty, liberal ones have it pretty easy. $1,000+ per month SUV lease. Moved to New Hampshire. Voted to end Medicare. Still receiving union disability pay for untreated sleep apnea. Looks and sometimes sounds like Col. Jack D. Ripper from Doctor Strangelove. Hasn't created any jobs.
This guy is just a hanging curve ball awaiting a swat into the upper deck, right?
But what about the conservative super PACs? What will they focus on? Here are my guesses:
Images of Cravaack and the America flag.
Cravaack pretending to be a man of the people, i.e., shaking hands, kissing babies.
Cravaack The Outsider fighting for the people.
Cravaack stemming the tide of Obama's socialist/fascist/Muslim/Kenyan oppression.
Cravaack The Protector: protecting your Medicare from the libruls who want to eliminate it in their quest to bring a socialist/fascist/Muslim/Hamas/Kenyan dictatorship to the US.
Cravaack fighting to end Obamacare.
Cravaack fighting against the libruls in Congress.
Cravaack fighting to end the corruption of Washington, DC.
Cravaack working hard to create jobs for northern MN.
The images of President Obama will be darkened to make him look really, really black. Images of Nancy Pelosi and Harry Reid will be enhanced to make them look crazed and hysterical. The accompanying music will be strident and frightening.
Images of Cravaack will have that soft core lighting to make everything shiny and happy. The music will be patriotic and/or uplifting.
Am I missing any tropes that the conservative PACs will be using?