UPDATE: Dayton's statement. Apparently she does have some record as commissioner, and it undercuts the GOP claims.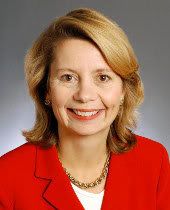 I just witnessed an act of partisan venality and political cowardice. This was science denial not even masquerading, but entirely skulking out of sight as best it could manage.
The State Senate just voted — along party lines, as if that wasn't predictable — to remove Ellen Anderson as commissioner of the Public Utilities Commission. If you're wondering what she must have done with her office to get Republicans so upset, the answer is nothing. They cited literally nothing in removing her. She has only just taken office and hasn't yet built a record to be judged.
Readers must be wondering what reason the Republicans gave. Keep wondering. The only Republican to speak to the subject was Julie Rosen, who got stuck with reading the motion, which someone had to do, and it was clear from her demeanor she did this with dread. She read her speech, not daring to lift her face lest she catch her colleagues in the eye. She wouldn't cite anything specific Anderson had done to be removed from office, but merely indicated that Anderson had failed to be strongly enough for fossil fuels. At a time when global warming is our worst environmental threat, maybe the worst issue we face overall, and while serving as a state senator for a state with no fossil fuels, Anderson dared to support other forms of energy. For this, the heretic must be punished. Rosen feebly tried to make Anderson the hypocrite, by citing votes Anderson had made against prior commissioners. Was there good reason to remove those commissioners? Apparently that was immaterial, which suggests it would also be inconvenient to the Republican case, absent as it was.
What did other Republicans say? Nothing to the substance. When Sandy Pappas cited Rosen and new majority leader David Senjem for their hypocrisy based on their past actions and statements, Senjem objected to senators being mentioned by name. When Terri Bonhoff connected the impending action to the cutting of DFL staff while Republicans went untouched, one Republican objected this was off-topic. Senjem raised the objection to using names when John Marty tried to ask a question of Julie Ortman, who Marty wanted to ask about her quote calling Anderson controversial without explaining why. Marty asked if he should ask his question of, this is close to a quote but not exact, "that lady sitting next to that guy over there?" When Ortman, now unable to avoid answering, made an answer, did she say what she meant? No. Did she cite something Anderson had done? No. She said she was concerned utility rates might go up. Did she say how Anderson would be the cause of this? Of course not.
DFLer after DFLer did speak, defending Anderson, though against what charges they weren't told, by citing her long record on energy issues and record of creating consensus across party lines. Barbara Goodwin pointed out that Anderson was sought nationally to address energy issues.
The Senate's power to reject commissioners has been used only in rare circumstances, after the commissioners have built up a record on the job that calls for removal. Bonhoff and minority leader Tom Bakk brought up the two rejections of Pawlenty commissioners for a contrast. Education Commissioner Cheri Yecke, though easily Tim Pawlenty's most controversial appointment, was given a year to show herself unsuited to the job, at which time she was rejected not for who she was before taking office, but for what she did in office. Lt. Gov. Carol Molnau, who doubled as transportation commissioner, was removed after five years and a terrible record on the job. Anderson, however, was removed before she had a chance to have a record on the job.
Yes, I was live tweeting the debate, saying things I assume Republicans won't like "No MNGOPer would defend their action. Useless cowards". However, I'm not on the Senate staff, unlike some GOP tweeters. When the debate ended, Scott Dibble said that in the last year and a half, Senate tradition had been thrown out, and the Senate turned into a "playground", specifying that during the debate there were Republican staff sending tweets attacking Anderson. Great collegiality guys. These — people — can't figure out they serve the state, not the conservative movement. They're job is supposed to be more than just attacking Democrats. If majority leader Senjem meant the rhetoric about the Senate being a family, maybe it's time he tell his children to stop throwing things at their cousins.
Note: I'll update when/if I can find the tweets Dibble was referring to, and when/if I find video of the debate.
UPDATE: Gov. Dayton excoriates Senate Republicans in his statement on Anderson. Apparently Anderson had some record as commissioner. Why didn't the Republicans bring it up? Because it completely undermines a charge of being extreme, supports the DFL senators' claims she builds consensus:

You would think after their leadership scandals, which caused them to replace all of their leaders last month, they would behave themselves for at least a little while. However, they seem incapable of doing so. After it was disclosed that they had ignored a $2.6 million reduction in their own operating budget during the past six months, the Republican Caucus hired a new Communications Director at a salary $10,000 above his predecessor. And they picked someone, a decent man, who now has a very serious conflict of interest as a University of Minnesota Regent, which he won't acknowledge and they won't deal with – thus sullying the good reputation of our great university.

Last week, their very first week back in session, the Senate Republican leaders addressed their deficit by cutting DFL Senators' share of the budget almost half-a-million dollars, while cutting theirs…zero. Zero. They did it after their new Leader said the Senate was "like family." Some family.

Now, to begin their second week, they have smeared and rejected an outstanding public official. They claim PUC Chair Anderson is "too extreme." Her record proves them wrong. Since she joined the PUC, there have been 221 votes among the five commissioners, the other four of whom were all appointed by Governor Pawlenty. Three of them are Republicans.

204 of those 221 votes were unanimous. Of the 17 divided votes, only six times did Chair Anderson vote in the minority. That's less than 3% of all votes taken. It also means that she voted with the majority on 215 of 221 votes, or 97% of the time. How is that extreme?
UPDATE 2: Two things: first, The Uptake posted a couple clips.
Second, regarding my characterization of how short Anderson's record as commissioner has been, I was mistakenly thinking she took office just a few months ago. She took office last March, so that's nine months in office. It's arguable if that's long enough to evaluate her performance, but her performance, as Dayton's statement explained it, shows GOP charges of being extreme or controversial to be bogus. I can't see inside their heads, so maybe this was long-harbored resentment and payback for Yecke and Molnau, but based on what they said, I think this was just science denial and ideology. I take Rosen's accusation that Anderson wasn't supportive enough of "traditional" fuel sources to be the telling part.