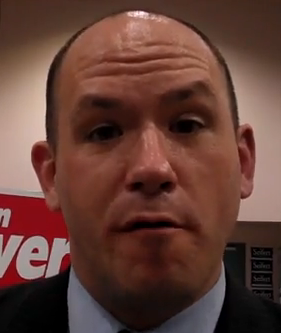 Did Michael Brodkorb, the former anonymous sleaze-n-attack blogger, former MN GOP Assistant Party Chair and former Senate Caucus staffer, bring this whole sex scandal down on himself by violating Reagan's Eleventh Commandment? Reagan's maxim is Thou Shallt Not Speak Ill of Any Fellow Republican. After Tony Sutton stepped down as MNGOP Party Chair on December 2nd, Brodkorb slammed failed 2010 Governor candidate Tom Emmer.

Brodkorb referred to Emmer as the "Bill Buckner of politics" – a reference to the Red Sox first baseman who made an error that cost his team the 1986 World Series.

"I think Republicans nominated the one candidate who couldn't possibly win in 2010," Brodkorb said.
(MPR, 12/03/2011)
Brodkorb went on to elaborate that the party had huge difficulties raising money because donors disliked Emmer and that Emmer's supporters failed to campaign for him after he won the endorsement.
Its clear that Sutton and Brodkorb weren't well liked by the teabaggers. But with Sutton's departure, the Ron Paul supporters were outraged about the party's debt and especially $450,000 in secret debt that Sutton signed off on:

On Wednesday one of the GOP attorneys on the recount, Tony Trimble, told PIM that then-RPM Chairman Sutton signed an agreement legally obliging the party to cover the full cost of the recount legal fees, reportedly around $450,000. And late Wednesday afternoon, Sutton confirmed the existence of an agreement that he says he does not recall disclosing to other party officials.
This was Friday, December 9, 2011. What if the teabaggers high up in the party structure, bent upon revenge for Brodkorb's slam of Emmer and themselves, began talking with the Paulbots, who want to reform the party, over the weekend? Because on Wednesday, December 14th, MNGOP leaders confronted Sen. Amy Koch over her alleged affair with a Senate senior staffer that certainly seems like it was Brodkorb.