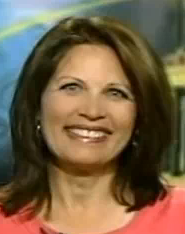 The presidential hopes of Rep. Michele Bachmann (R-MN) were dealt another blow on Friday as her entire New Hampshire campaign team quit. They hadn't been paid for a month. Bachmann's fundraising has tanked since Texas Gov. Rick Perry entered the race and this is just fallout from it.
Bachmann initially denied they quit. Under normal circumstances, denying reality usually works quite well for her:

Mrs Bachmann told Radio Iowa: "We have called staff in New Hampshire to find out where that came from and the staff have said that isn't true, so I don't know if this is just a bad story that's being fed by a different candidate or campaign."

Earlier, Bachmann campaign spokeswoman Alice Stewart said she had not been able to contact the New Hampshire staff to confirm they were still on the campaign.
(BBC)
So the Bachmann spokeswoman couldn't confirm that they'd contacted the NH staffers and Bachmann just tells the media the story she wants to be true. This is yet another example (in a long, long line) of Bachmann's basic disregard for the truth. Like her statements about HPV Vaccine or that Iran had secret plans to divide up Iraq Any other candidate might be given the benefit of the doubt, but not a chronic and unrepentant liar like Bachmann.
Then another staffer steps into the breach to calm anyone's fears and probably at Bachmann's order:

"We have a great team in New Hampshire and we have not been notified that anyone is leaving the campaign," Nahigian said in a statement that landed even as news outlets confirmed the departures.

"We look forward to spending more time in the Granite State between now and the primary, but our campaign has emphasized that our main focus is the first-in-the-nation caucus state of Iowa and we are continuing to build efforts there. While she will campaign in other states, Michele will spend the majority of her time in Iowa, doing what she does better than all the other candidates – retail politics – leading up to the all important caucuses."
(Politico)
But reality won out this time and this time its going to be hard for Bachmann and her campaign to deny it away:

Jeff Chidester, Bachmann's former New Hampshire campaign director, confirmed the mass exodus. "The New Hampshire team has quit," he said. "We'll issue a joint statement as to our reasons why."

Chidester's confirmation, made via email and voice mail to National Journal and CBS, followed a confusing day in which Bachmann insisted that reports of the staff departures were untrue. But Chidester said he left last week and informed "people that are closest to Michele."

"I'm sorry the national team is confused," he said. "They shouldn't be."

One of the aides who quit, Caroline Gilger, Bachmann's southern state field director, is joining the rival campaign of Texas Gov. Rick Perry.
(CBS)
And to provide you with a little schadenfreude this Monday, it gets worse for Bachmann:

"[M]embers of Team-NH made numerous attempts to directly contact a senior member of the national team on Friday, October 14, 2011, expressing a possible desire to remain with the campaign, but they wanted to clear up a few matters," the statement read. "This senior member of the national campaign did not attempt to contact the NH campaign staffers. The staffers took this as a signal that the national team did not want to engage in a conversation that might have resulted in the staffers remaining with the campaign. The staffers no longer wish to be part of the campaign."

The staffers also alleged a hostile relationship with the national campaign.

"The manner in which some in the national team conducted themselves towards Team-NH was rude, unprofessional, dishonest, and at times cruel. But more concerning was how abrasive, discourteous, and dismissive some within the national team were towards many New Hampshire citizens," the statement read. "These are our neighbors and our friends, and some within the national team treated them more as a nuisance than as potential supporters."
(Minnesota Independent)